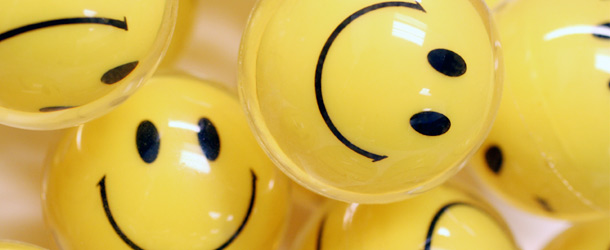 5 Good Reasons To Smile
Posted on |
There's a phrase-"A smile is a curve that makes everything straight" which is very true in our lives. Nowadays, people hardly get time to smile & even if they do smile more often than not it is mechanical. Actually, due to the hustle & bustle of life, we often forget to smile or to make other people smile. In return, we pack ourselves in boxes of tensions & false anxieties & generate the same feelings for others too.
Life is too short for those who are always joyful & make other people happy too. On the other hand life is too long for those who are always worrisome – with a dark cloud hanging over their heads carrying it wherever they go.
Sorrows, worries, tensions are all a part of this game of life. But we should learn to live each moment happily with that curve which perhaps can make everything straight – Actually!!
By thinking over & over again, 5 good reasons clicked in my mind of why should I wear a smile anytime & I guess it can suit you as well:
Smile to keep others happy: Did you ever hear that famous song by Louis Armstrong "When you're smilin', the whole world smiles with you"?? It is a fact. Many studies have shown that if your friends or some near & dear one see you smiling, they do the same. Sounds crazy right? But, smiling is contagious. Try it out- it works!
Smiles make you more attractive: Did you wonder why we are always asked to smile while clicking photos? It is because people usually look at their best & happiest while smiling. According to the American Academy of Cosmetic Dentistry, it has been proven that an attractive smile makes a person much more appealing to the opposite sex. So, next time you go out on a date please keep wearing a smile it will keep your mate in a happier mood & as a result, you will be more attractive in his/her eyes!!
De-stress yourself by smiling: There are times when we feel very low, burdened with work or personal pressures of daily life seem to hammer us. Just relax, take a deep breath & smile gently. Trust me you will feel much better! Also our brain starts functioning faster while we are tense, but as soon as we smile, the signal reaches the brain that you are feeling happy (even a mechanical smile!). Your body will actually slow down – breath & heart rates will drop. A smile doesn't need a special reason – it can be worn anytime, anywhere. So just do it.
A Smile can help you get the job: While going for an interview, it's not just your clothes or winsome face that matters wearing a smile is a must with your formal attire. An unpretentious smile shows you as a likeable, confident, conscientious & of course stable person. Something your employer is looking for!! So, next time when you will be getting ready to impress, ensure that you carry that beautiful natural smile along with you.
Just feels good: Smiling just feels good doesn't it? Just smile now – doesn't it feel natural & relaxing?? In fact when we are relaxed and peaceful a smile will naturally come to our face. Now don't you want to smile once again?? It surely does beat the heck out of a frown. So keep smiling dear – Always!
So, next time whenever you feel low, nothing good is happening with you, try a smile & if you can't find a reason to smile, just do it anyways!! Just be happy & remember the world infront of you is a mirror which smiles back to you if you smile.