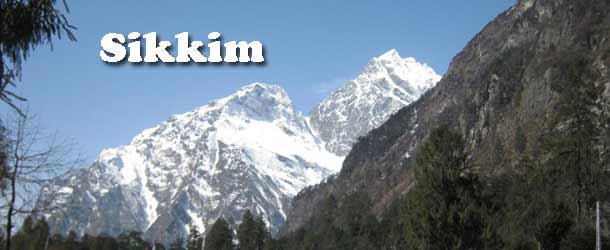 What are the places to visit in Sikkim?
Posted on |
There are many places in the world about which much has been written. Many places have been abundantly glorified but there is one place that has mostly remained untapped and so in spite of being one of the most paradisiacal places in the world, not many people are aware of its unearthly beauty. The place is none other than Sikkim. The best part about this extraordinarily beautiful land is its raw and earthy nature. The place has not been cared for and so it remains vastly virgin territory. So if you want to visit a place where you can directly communicate with nature, Sikkim is the place you need to visit.
It's a strange and eclectic rendezvous with nature, whether you wish to visit the Buddhist monasteries or simply be by yourself in an unearthly communion with nature. So if you are dying to visit Sikkim read on to know the places you simply cannot afford to miss.
Gangtok: Gangtok is the capital city of the state and the word Gangtok means 'hilltop'. It is a beautiful town and if you want to book all your trekking trips you straight away start from here.
Flower exhibition center: Sikkim is a place where you might get blinded with the riot of extraordinary colors. After March do visit the White Hall Complex in Gangtok along with the other gardens and parks there, for an out-of-the-world feeling to explore the most dazzling of flowers and rare orchids which your eyes never had the good fortune to witness before.
Himalayan Zoological Park: Sikkim is home to some of the most extraordinary animals. When you are in Sikkim do not even think of missing this wildlife sanctuary, which is only 3 km from Gangtok and located at an altitude of 1,780 m (5,840 ft). You will simply be amazed to witness some of the rarest of animals like red panda, Himalayan bear and snow leopard, among other species in this 205 hectares park.
Tsomgo Lake: You must have visited many lakes. But this to witness a snow-fed chilling one at an altitude of 3,752 m (12,310 ft) can surely be one of the most memorable experiences of a lifetime. Situated around 40 km (25 miles) from Gangtok, this lake is one of the major attractions of Sikkim. Get geared up and flair your imagination for a never-before-experience of a yak ride around this lake while you are enjoying nature's glory at its best all-around.
Nathu La Pass: In Tibetan, Nathu La means both 'listening ears' and 'pass'. And if you want to be a part of the historical glory do visit this famous pass at 4,404 m (14,450 ft), which happened to be an important spot on the Silk Route during the medieval times. Nathu La also is important in recent times since it is still an Indo-Chinese trading post on the border between the two nations. And not only is it famous for its historical element. The flora and fauna around the place will simply take your breathe away.
Rumtek Monastery: There is an element of grandeur around Sikkim and some of it can be attributed to the abundance of Buddhist monasteries in this place. Rumtek is a beautiful 16th-century monastery and there is a strange element of serenity associated with the monastery, which was established by Wangchuk Dorje, the ninth Karmapa under the patronage of the ruler of Sikkim, 24 km (15 miles) outside Gangtok.
Pemayangtse Gompa Monastery: This is an 18th-century monastery, which means 'Perfectly Sublime Lotus', is noted for its fine collection of sculptures and statues of Guru Rimpoche and its founder-lama, Lhatsum Chempo. Situated at 2085 m (6,840 ft), this monastery boasts of a rare chaam dance performance by the monks during Tibetan New Year in February.
Pelling: For a truly heavenly feeling and out-of-the-world experience of viewing Mount Khanchendzonga, Pelling in west Sikkim is a must-visit place. Quite naturally the place boasts of numerous hotels and hence it is hardly called a village these days.
Yumthang Valley: Yumthang Valley lies at an altitude of 3,575 m (11,800 miles) and there you must take out time to explore the Shingba Rhododendron Sanctuary which has more than 24 species of rare flowers. You can walk along the river Teesta's tributary and also visit the valley of flowers. The valley remains closed during winters. But after March you have to surrender yourself to the temptation of the dazzling colors of the millions and millions of beautiful flowers.
Khecheopalri Lake: This sacred lake is in the western part of Sikkim and lies about 147 km from Gangtok. Quite extraordinarily, the place is well-known for religious reasons both to Hindus as well as Buddhists. There is a myth that Khechoedpaldri hill, lake, and valley, which were once blessed by Guru Padmasambhava, has hidden treasure embedded somewhere in it. Quite interestingly, the surface of the lake remains undisturbed and even if something drops on it, the object is immediately picked off by birds then and there.
The list actually never stops. There are innumerable other places to visit in Sikkim. But the mentioned ones are the most famous. The best part about the place is it is a virgin territory and the more you visit it the more you can explore the extraordinary land.